Financial Peace Class (Coming Fall 2018)
Destroy your debt. Create a workable budget and still leave room for giving and fun. Financial Peace University is a nine-week money management class led by Bobby and Laurie Brooks that will walk you through the basics of budgeting, dumping debt, planning for the future, and much more. Plan now to make a difference in your financial future. The cost of the course is $100.  Payment plans are available. Classes begin August 19 from 4:30 to 6 p.m. Sign up now.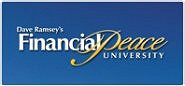 Fast Track Disciple (Coming Fall 2018)
Join others on a 12-week study of the Old Testament and a 12-week study of the New Testament with this engaging and transformational study series that will move you from student to disciple. Discover the biblical story and uncover your own spiritual gifts as you dedicate 24 weeks to this amazing group experience. Cost: $16. Sign up now.