Sharing God's love – where it's needed.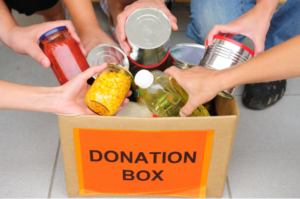 Fayette Samaritans: Food Assistance – Needed NOW
"There are many in our county who have never needed help feeding their families and many of us can help. Fayette Samaritans needs your support to help meet these needs," says Jerry Daughtry of Fayette Samaritans.
April is our month to make a special effort to stock the pantry for Fayette Samaritans, our community food bank. Fayette Samaritans is ready to receive your food donations Mondays, Wednesdays, and Fridays from 9 a.m. to 11:30 a.m. Just drive by and drop it off. Find out their most needed donations here. You also can drop off donations Monday – Friday from 11 a.m. to noon during "Wheel and a Prayer" times at the church office.
Food boxes for pickup are also available at Fayette Samaritans during these hours. Fayette Samaritans is located at the corner of Highway 92 North and New Hope Road behind Fayette Christian Church. Please note directions for curbside pickup.
Helping Hands
If you have any special needs such as grocery shopping, pharmacy pickup, etc., please contact Rev. Allyson Lawrence at alawrence@fayettevillefirst.com. We are ready and willing to help, so be sure to reach out.
If you want to lend a helping hand, fill out this little form to help us match you best with the needs.
Caring Prayers
Need an encouraging word or prayer? Please share your request. Or come by the church office parking lot Monday – Friday between 11 a.m. and noon for a prayer with a minister. (They'll be masked and sanitized for your safety!)