We celebrate the work of United Methodist Women both locally and around the world.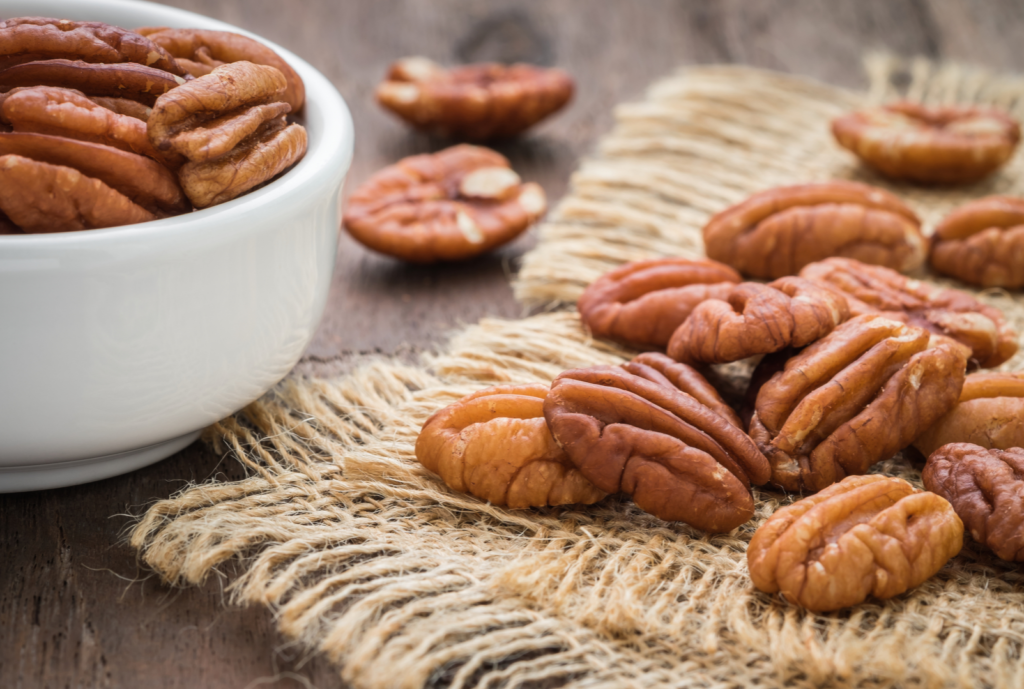 Pecans! Pecans! for local charities
It's pecan time… what a delicious and great way to raise funds for local charities. You pay $8 for each 12 oz. bag of pecans and all profits are donated by our UMW to charities. Even though Christmas Marketplace will not be held as normal this year, UMW is still committed to raising funds for others. With pecans, everybody wins! Fill out this pre-order form (complete with details) and drop it at the Welcome Center on Sunday or in the church office before November 4.
UMW member Tami Kemberling shares this about her UMW experience:
On June 26, 1958 I became an honorary member of the Women's Society of Christian Service of the Methodist Church, my mom was president of their WSCS when I was born. It has been a part of my life for 63 years. I lost my Mom at 25 years of age and joined this church over 30 years ago, realizing that I've known some of my Spiritual Mothers longer than I knew my biological mother. Therefore, the term Spiritual Mothering is very important to me, as it is one of the factors I love about UMW. A book by Susan Hunt called Spiritual Mothering brought this home to me as she talked of the Titus mantle, to enter into nurturing relationships with younger women to encourage and equip them to live for God's glory. Hence, the important suggestion of mentoring. This bag was given to me by Barbara Brown and to her, it was a gift by Wendy Hite.
Connectivity is another important mandate of UMW. I wasn't good in math, but when you connect dots, you go from A to B … on an interstate, you go back and forth … the important part of the word is inter, so interconnectivity is an important part of UMW. Since being in UMW as an adult, the mentoring, fellowship, mission work and Faith, Hope, Love in Action has given me a purpose. 800,000 women share in this purpose.
The organized unit of UNITED METHODIST WOMEN shall be a community of women whose purpose is to know God and to experience freedom as whole persons through Jesus Christ to develop a creative, supportive fellowship and to expand concepts of mission through participation the global ministries of the church.
Mission pins are one way to participate in our 5 Channels of Giving, as well as Memory and Honor Cards, supporting our 4 mission Institutions of the NGC through Quarterly Giving and the World Thank offering and Pledge to Missions." 2 cents and a prayer" was started 151 years ago. We are connected to the United Methodist Church. I remember vividly the first time I heard the song Here I Am Lord, as I look at my pin of COUNT ME IN. To be qualified, "NO." To be willing, " YES." It's not in our comfort zone, but God says, "Get out of your comfort zone."
UMW is also like a class in Missions. The Reading Program, the Response Magazine and Mission U all have taught me so many positive things, rather than the nightly news. Faith, Hope Love in Action. Many of you know I am the Queen of Trash, this has been my passion for over 30 years, but until I did the mission study Climate Justice, A call to Hope and Action, I kept it to myself, ( many of you would still like me to), but I realized the church should be a model for the community. UMW uses action. One article in Response called us Loving Troublemakers. I think of Bill McKibben's funeral as Sam Matthews said he disagreed peacefully. This is what we are trying to use in action, through our Four Focuses Worldwide: Just Energy For All; Ending Maternal Mortality; Living Wages for ALL; and Interrupting the School to Prison Pipeline. Much of this seems political, but as stated by one the Home Missioners we help to support, "Part of the energy and determination and inspiration that I get is from knowing that there are UMW members and United Methodists all over the country praying for me. The cards and gifts we receive on birthdays and holidays are a reminder that people believe in the work and ministry of the church and believe in creating social justice and spreading God's love. It is a powerful force to know behind me and supporting me. UMW advocates for the most vulnerable, caring for their neighbors. Who are your neighbors? UMW looks to Nome, Alaska, India, Africa and the homeless person down the street as your neighbor. Read the Invisible Thread; it changed my life. In 2018-2019, the national UMW offices gave nearly 8.9 million in grant support to national missions, reaching 49 countries. 90 national mission institutions are supported in partnership.
I was President of UMW 24 years ago. I am delighted to still be here. When people say "I've done that," I think, Oh, Joy, I can do it again."
Change is coming, "Can we use the change for good?"
For more than 150 years Methodist women organized for mission have worked in the name of Jesus to take positions on social justice issues and change legislations, systems, structures and practices considered unjust and oppressive. Making masks, Zoom and more time to reflect has been our result of COVID. What lies in your future? Here I am, Lord, Count me in.
We will be selling pecans and accepting contributions for the CMP fund to contribute to our local charities due to the restrictions of COVID.
I offer this prayer ( taken from Response magazine Sep/Oct 2020)
God of fresh starts, of new beginnings, of renewal and restoration, we awake to your grace, embraced by love unconditional with each morning, You birth new possibilities in us, around us. We are surrounded by sacred potential. There are so many ways to love, May we rise to the day's call, to listen for the aches, to give voice to the beauty, to be a companion to justice. Amen.
j