Join us for fellowship and worship!
SCROLL DOWN FOR ORDER OF WORSHIP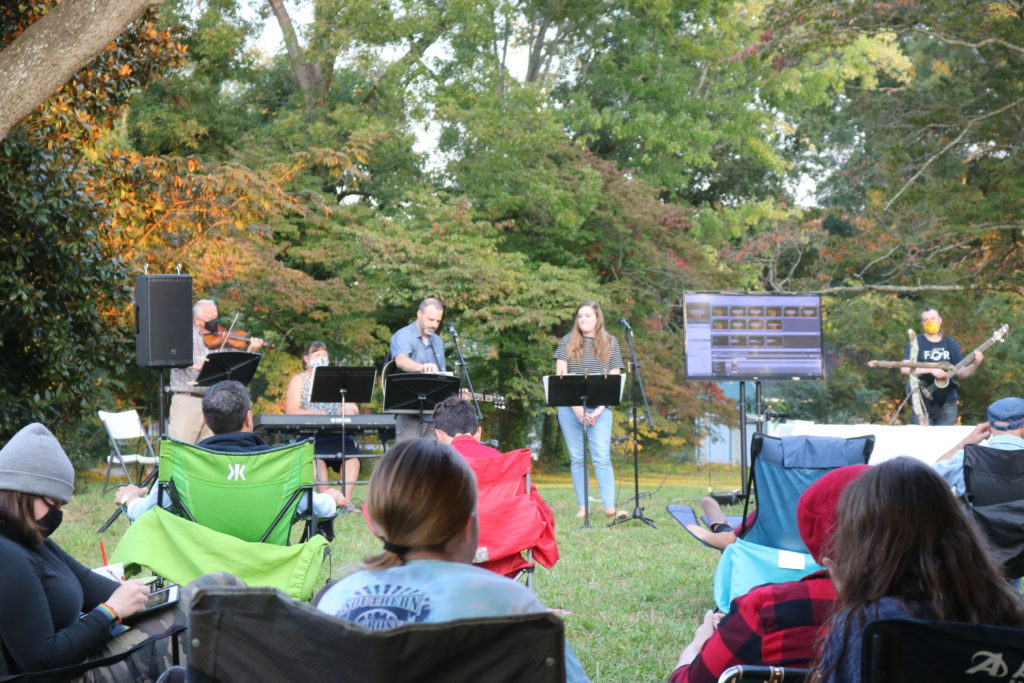 WEDNESDAYS
6:30 PM at THE FIELD at FFUMC
Led by Rev. Carson Thaxton
We continually need encouragement, a time for worship, an anchor for the soul, and each other. These mid-week worship services will follow the lectionary scripture readings of the church year.
What to expect:
Weather-permitting each week. Text @ffumcfield to 81010 for event reminders and weather-related cancellations.
BYOS: Bring your own seat (or blanket).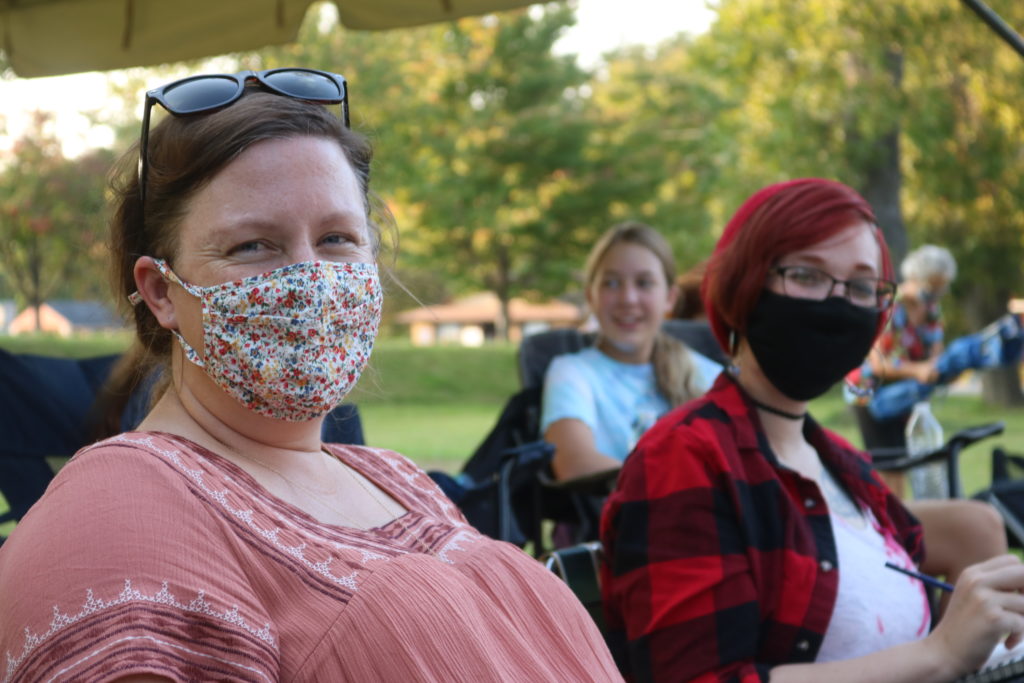 We'll love each other from a six-foot distance around individuals/households. Creative waving, distanced high-fives and air hugs are highly encouraged.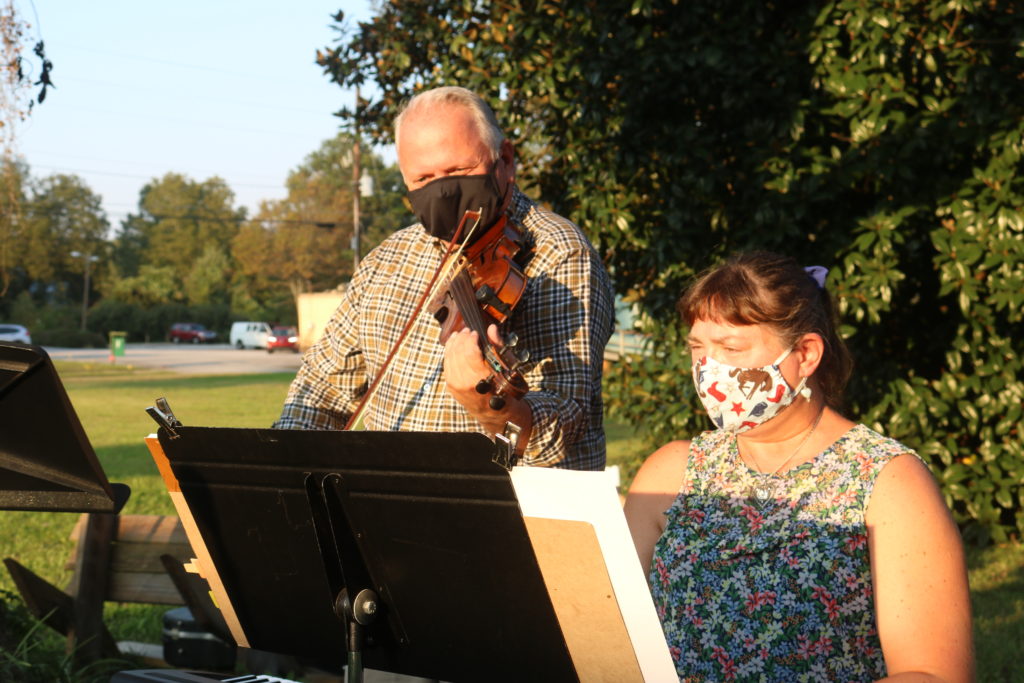 Masking is requested. Congregational singing and communal liturgy are encouraged outdoors, so we want to ensure everyone's safety is protected.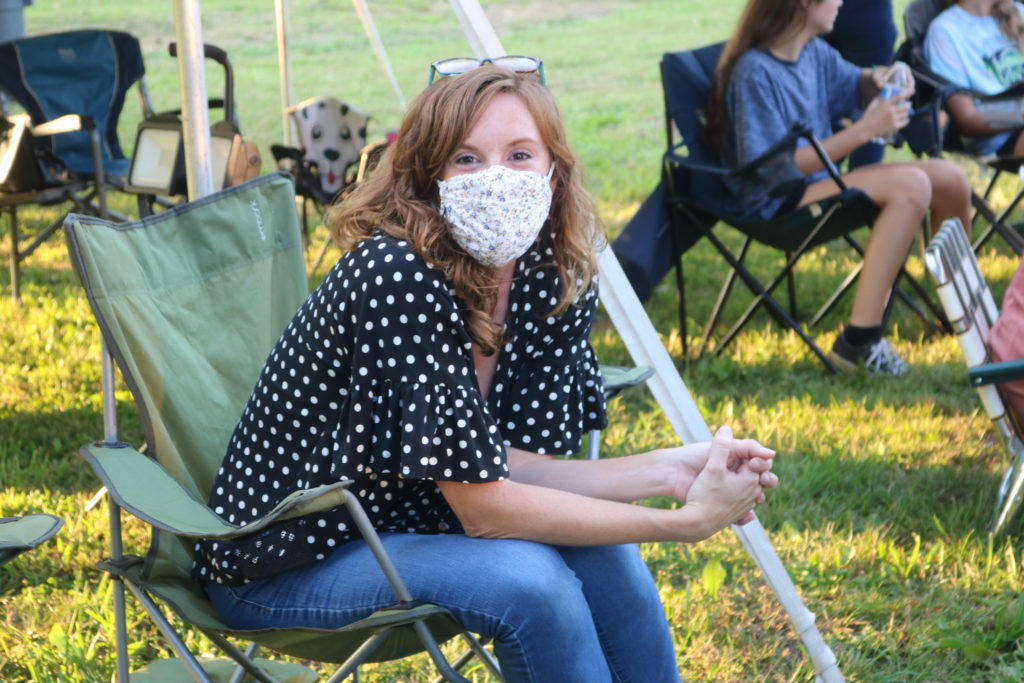 Let's worship together as we move through this pandemic with purpose.
God is with us.
God has a word for us.
God loves us.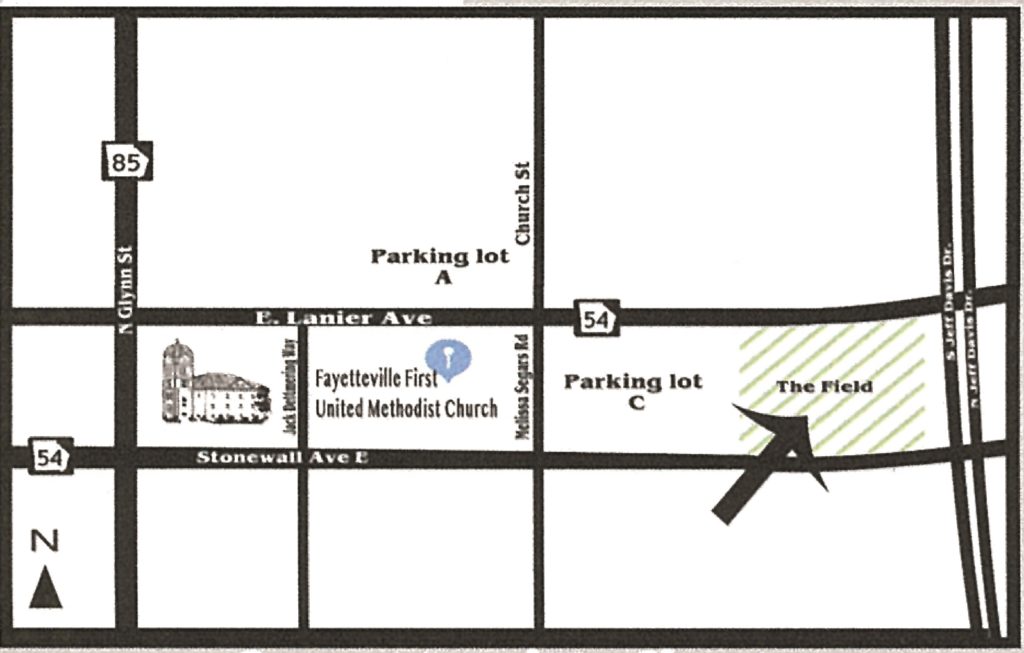 Welcome! Let us know you're here
For your convenience – Online Giving
Call to Worship (Mary Elise Byers)
Leader:
New every morning is your love, great God of light, and all day long you are working for good in the world.
All:
Stir up in us desire to serve you, to live peacefully with our neighbors, and to devote each day to your Son, our Savior, Jesus Christ the Lord. Amen.
What a Friend We Have in Jesus
What a friend we have in Jesus
All our sins and griefs to bear
What a privilege to carry
Everything to God in prayer
O what peace we often forfeit
O what needless pain we bear
All because we do not carry
Everything to God in prayer
Have we trials and temptations
Is there trouble anywhere
We should never be discouraged
Take it to the Lord in prayer
Can we find a friend so faithful
Who will all our sorrows share
Jesus knows our every weakness
Take it to the Lord in prayer
Are we weak and heavy laden
Cumbered with a load of care
Precious Savior still our refuge
Take it to the Lord in prayer
Do thy friends despise forsake thee
Take it to the Lord in prayer
In His arms He'll take and shield thee
Thou wilt find a solace there
Affirmation of Faith: Apostles' Creed (Keven Fernandes)
I believe in God the Father Almighty
Maker of heaven and earth;
And in Jesus Christ his only Son, our Lord;
who was conceived by the Holy Spirit,
born of the Virgin Mary,
suffered under Pontius Pilate,
was crucified, dead, and buried;
the third day he rose from the dead;
he ascended into heaven,
and sitteth at the right hand
of God the Father Almighty;
from thence he shall come
to judge the quick and the dead.
I believe in the Holy Spirit,
the holy catholic church,
the communion of saints,
the forgiveness of sins,
the resurrection of the body,
and the life everlasting.
Amen.
Gloria Patri
Glory be to the Father,
and to the Son, and to the Holy Ghost,
as it was in the beginning,
is now, and ever shall be,
world without end.
Amen, Amen.
Passing of the Peace (Mary Elise Byers)
Leader:
The peace of Christ be with you.
All:
And also with you.
(offer signs of Christ's love to your neighbor)
The Lord's Prayer
Let us pray the Lord's Prayer together:
Our Father, who art in heaven, Hallowed be thy name.
Thy kingdom come, thy will be done,
On earth as it is in heaven.
Give us this day our daily bread. And forgive us our trespasses,
As we forgive those who have trespassed against us.
And lead us not into temptation,
But deliver us from evil. For thine is the kingdom, and the power,
And the glory forever.
Amen.
Psalm Lesson (Ginny Fernandes)
Psalm 90:1,2
Good evening brothers and sisters in Christ. Today's Psalm Lesson comes from Psalm 90 verses 1 and 2. Hear the word of the Lord:
Lord, you have been our dwelling place in all generations. Before the mountains were brought forth, or ever you had formed the earth and the world, from everlasting to everlasting you are God.
The word of God for the people of God.
Thanks be to God.
Gospel Lesson (Rhett Blythe)
Matthew 22:34-40
The greatest commandment
Today's Gospel Lesson comes from the gospel of Matthew, chapter 22 verses 34 through 40. Hear the word of the Lord:
When the Pharisees heard that Jesus had silenced the Sadducees, they gathered together, and one of them, a lawyer, asked him a question to test him. 
"Teacher, which commandment in the law is the greatest?" Jesus said to him, " 'You shall love the Lord your God with all your heart and with all your soul, and with all your mind.' This is the greatest and first commandment. And the second is like it: 'You shall love your neighbor as yourself'. On these two commandments hang all the law and the prophets."
The word of God for the people of God.
Thanks be to God.
As the Deer by Martin Nystrom (Leslie and Bruce Hester—Jadyn and Kaitlyn Lawrence)
As the deer panteth for the water
So my soul longeth after Thee
You alone are my heart's desire
And I long to worship Thee
You alone are my strength my shield
To You alone may my spirit yield
You alone are my heart's desire
And I long to worship Thee
Epistle Lesson (Kevin Fernandes)
1 Thessalonians 2:1-8
You yourselves know, brothers and sisters, that our coming to you was not in vain, but though we had already suffered and been shamefully mistreated in Philippi, as you know, we had courage in our God to declare to you the gospel of God in spite of great opposition.
For our appeal does not spring from deceit or impure motives of trickery, but just as we have been approved by God to be entrusted with the message of the gospel, even so we speak, not to please mortals, but to please God who tests our hearts.
As you know and as God is our witness, we never came with words of flattery or with a pretext for greed; nor did we seek praise from mortals, whether from you or from others, though we might have made demands as apostles of Christ.
But we were gentle among you, like a nurse tenderly caring for her own children. So deeply do we care for you that we are determined to share with you not only the gospel of God but also our own selves, because you have become very dear to us.
The word of God for the people of God.
Thanks be to God.
Sermon (Rev. Carson Thaxton)
Love: sharing God and ourselves
1 Thessalonians 2:1-8
'Christ-like Love' as Greek word: agape
1. Unconditional commitment to the good of the other
2. Equal regard for the well-being of the other
3. Passionate service for the sake of the other
(open to self-sacrifice)
FAITH, HOPE, or LOVE Original…
a LOVE original
"A Different Kind of Love"
Words and Music by Rev. Dr. Thomas W. Elliott (performed by Bill Webb and Jeremy Neal)
It's a different kind of love
From a different kind of place
Spoken in a Word
Full of truth and grace
Appearing in the flesh
Bids us "Come and See"
Behold, the Lamb of God
For all eternity
For God so loved the world
He gave his only son
Whosoever believes
Has life
For God sent his son
Not to condemn
But that the world might be saved
Through him,….Jesus
It's a different kind of love
From a different kind of place
It's hard to comprehend
God's amazing grace
The Savior of the world
Calling "follow me"
Forgiving all our ways
The love that sets us free
It's a different kind of love
From a different kind of place
Benediction
Doxology
Praise God from whom all blessings flow
Praise him all creatures here below
Praise him above ye heavenly host
Praise Father, Son, and Holy Ghost.
Amen, Amen.
Amen, Amen.