We're here for you through COVID
Gather at THE FIELD on Wednesdays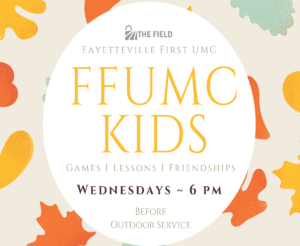 We are ready to see you on Wednesdays! 
When? 6 p.m. each Wednesday
Where? The Field (next to Parking Lot C)
Why? Games, Lessons, Friendship
Meet Rev. Carson Thaxton, Ms. Allie, and other leaders for 30 minutes before the Outdoor Service for a good time together outside with activities and learning to strengthen our faith!
See more on our FFUMC Kids page.
Contact Rev. Carson Thaxton for more information.