We are glad you're here!
You are invited to connect with God's Kingdom NOW at FFUMC through Nurture, Outreach and Worship. Take time to get to know us. Investigate! Explore! Try a small group throughout the week. Participate in an event. You'll find a place that is right for you to develop new relationships and grow in your faith.
Donate
Opportunities:
Table Groups
Explore a small group for faith and friendship. New participants are welcome. Check it out! Questions? Contact Rev. Allyson Lawrence.
Wednesdays: 9:30 a.m., FFUMC Campus
Wednesdays: 6 p.m., Gremlin Growlers
Thursdays: 10 a.m. (men only)
Friday: 10 a.m., Gremlin Growlers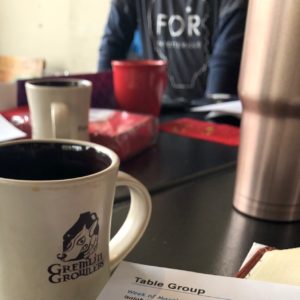 Ongoing: Call the church office for more information (770-461-4313)
GriefShare sessions as we walk with others through grief. New classes begin in February 2020.
Jesus in the Gospels is a 30-week study that began in September 2019 and will continue through May 2020.
A Disciple's Path (James Harnish) begins Wednesdays, January 15 – February 19, at 10:45 a.m. Orientation class is January 8. Join in a six-week study that focuses on spiritual practices, your unique gifts, and transformational discipleship. A Disciple's Path is akin to a short-term adult confirmation class. Come learn more about our faith tradition and how we engage with God everyday of our lives. $20. .
Six For Supper groups are a way to meet new people over a meal and get to know your church family better. Groups meet three times over a here month period beginning in February. Sign up right away to be included when new groups are formed in January.
Creative Expressions, a card-making and crafting class, meets twice a month on Wednesday nights.
Shawl, Flower, Worship, Square Foot, and a host of other ministries are ongoing. Explore to see what's happening on campus and in the community.
Volunteer
New Member Resources