We are glad you're here!
You are invited to connect with God's Kingdom NOW at FFUMC through Nurture, Outreach and Worship. Take time to get to know us. Investigate! Explore! Try a small group throughout the week. Participate in an event. You'll find a place that is right for you to develop new relationships and grow in your faith.
Donate
Our Journey to Easter
Holy Week & Easter Season
As we journey through Lent and into the Easter Season in these uncertain times, we invite you to be present in worship virtually until we can gather together again.
Join us in worship any time! You'll find the latest uploads on our homepage. 
Opportunities:
Table Groups
Explore a small group for faith and friendship. New participants are welcome. Check it out! Questions? Contact Rev. Allyson Lawrence.
These groups are currently meeting online.
Wednesdays: 9:30 a.m.
Wednesdays: 6 p.m.
Thursdays: 10 a.m. (men only)
Friday: 10 a.m.
Sundays: 6 p.m.
Table Group Focus Sheet – March 30 PDF
Inspiration for Conversation: Week of March 30 VIDEO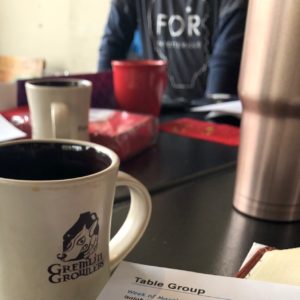 Ongoing: Call the church office for more information (770-461-4313)
Events 2020
EasterPalooza – This event has been cancelled. We'll keep you posted on our next BIG community party!
Great Day of Service is postponed. We'll let you know what day you can get out and do good as a group! Hopefully that will be soon.
Vacation Bible School – June 22-26, 2020 Knights of North Castle
MAD Camp – July 13-17, Ages 5 – 12
Volunteer
New Member Resources