Adult Discipleship Opportunities for Fall 2021
Ready to dig deeper with scripture and fellowship with others who want to do the same? Sign up now or contact the office for more information at 770-461-4313.
Disciple I – Sundays, 4 – 6 p.m., September 12 – May 2022
The Wesley Challenge – Saturdays, 10 – 11 a.m., September 11 – October 23
Bad Girls of The Bible – Wednesdays, 12-1 p.m., September 8 – November 10
New Table Groups – Days and times vary. Contact Rev. Allyson Lawrence
Find out more or sign up here.
Table Groups
Table groups are a small group meeting with the goal of spiritual transformation … a place for real, honest, and deep conversations about life and faith.
"The most profitable exercise of any is a free inquiry into the state of the heart." Francis Asbury and Thomas Coke
Groups meet throughout the week. Contact Rev. Allyson Lawrence, alawrence@fayettevillefirst.com, to find out more and to find the group that is right for you.  A hybrid in-person/ZOOM option is provided for most groups.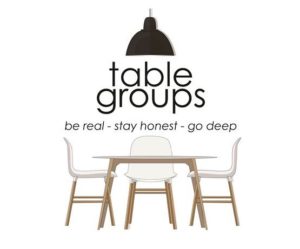 Many other small groups meet throughout the year. See what might be best for you!