Early Choir
The Early Morning Choir is a fun and dedicated group that loves to sing. A varied group of adults and youth, this is a great fit for those who can't work a mid-week rehearsal into their schedule. The group meets at 7:50 a.m. on Sunday mornings and then sings at the 8:30 a.m. service. Director: Rick Massengale.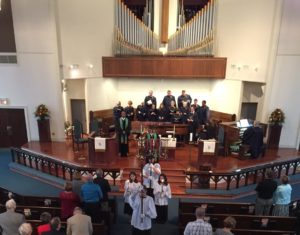 Chancel Choir
The Chancel Choir assists in leading worship every Sunday morning at the 11 a.m. service in the sanctuary. Made up of people who love to sing, our choir is one of the best sounding choirs in the area. Entrance into this group is without audition and welcomes all singers. Rehearsals are held on Wednesday nights at 7:30 p.m. along with warm-ups on Sunday morning at 10:30 a.m.  A nursery is provided for the Wednesday night rehearsal. In addition to Sunday morning worship, the group prepares two special musical services each year at Christmas and Good Friday. Director: Rick Massengale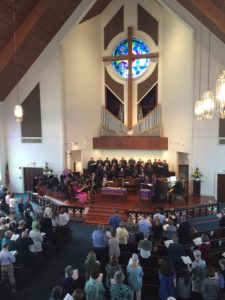 Seasoned Singers
A great group of older adults meet weekly on Tuesdays at 1:30 p.m. (except for summer months) for fun, laughter, singing and fellowship.  Occasionally they visit nursing homes or assisted living facilities to sing and share their joy. They also share their hearts with us in worship. Director: Deb Cole.