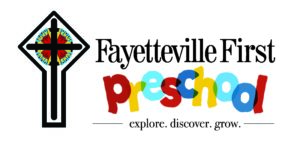 Fayetteville First Preschool is closed for the remainder of this school year due to the COVID-19 pandemic. Registration is still ongoing for the 2020-2021 school year. For information, contact Kerry Bleil, director, at kbleil@fayettevillefirst.com.
FFUMC's Preschool and Mother's Morning Out provides a caring learning environment grounded in Christian beliefs.  Using developmentally appropriate practices we aim to help children grow spiritually, socially and physically in order to create a firm foundation for future success.
To schedule a tour please contact Kerry Bleil at kbleil@fayettevillefirst.com or 770-461-4313, ext 124.
Register Now!  Preschool Registration 2020-2021